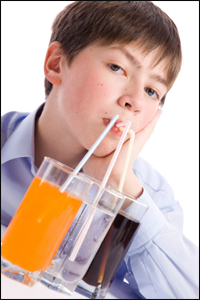 Sugary drinks such as sodas and pops have been getting a lot of attention. It has even been suggested that they have warning labels similar to cigarettes on their packaging. If you're like me and enjoy the occasional drink of pop, here are some tips to limit the damage to your teeth.
For starters, you might try the sugar-free versions - they are somewhat less likely to cause cavities, although they still damage enamel because of acidity.
Also try to drink your pop during a meal, drink through a straw (to minimize contact with teeth), and follow a pop with a rinse of water. If possible, brush your teeth with a toothpaste with fluoride and enamel protective features but wait about a 1/2 hour after consumption of an acidic drink like soda prior to brushing.
Most importantly limit your pop consumption. Remember, that once it passes through your teeth, the rest of your body has to deal with it and that's a whole other story.